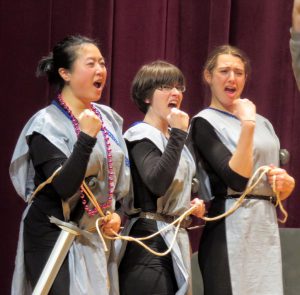 This year, auditions will be held the weekend of August 13th-14th. There will be two locations for convenience; Saturday, August 13th will be in Niigata, and Sunday, August 14th will be in Kakizaki, (in the North of Joetsu City). You are welcome to go to either audition you wish.
For the Niigata audition, please arrive at 1:00PM for the information session. For the Joetsu audition, please arrive at 10:00AM. Afterwards, we will have open auditions. Each audition will consist of a singing (two songs, about 30 seconds long, of your choice), a small dancing practice and a reading (the script will be provided). People who just want to help out with various things are also welcome to auditions!
If you cannot make it to auditions, but you still wish to participate, please contact the director, Melusine Perrier (Mei), at niigatacharitymusical@gmail.com and she will do her best to make arrangements. Also, feel free to contact her if you have any other questions!