Farewell fair Shinkansen, I hardly knew you.
With the corona virus' arrival in Japan not long after my own, there really hasn't been much opportunity to ride the double decker Max Toki Shinkansen to Tokyo. But for many other Niigata residents, and former ALT's that's not the case. So for these folks, hearing the news that the Max Toki will be ending operation on October 1st must be bitter sweet. Hopefully bringing back good memories of climbing the stairs to upper-level seats with glorious views of the Niigata countryside rolling by.
The Max has developed a bit of a rattle in its old age, so JR East has finally decided that it is time for retirement. That "retirement" was originally scheduled for the end of 2020, but was postponed after typhoon 19 damaged some other trains in JR East's fleet. 
The E4 series engine started commercial operation in December 1997. It was designed as the second generation of the double decker Shinkansen that went simply by the name of "Max" (Multi Amenity Express). The Max actually started operation on the Tohoku line, not servicing Niigata until 2001, and receiving its now iconic ibis coloring in 2014.
Max Toki's 8 car train has a capacity of 817 (including jump seats). It can be linked to another 8 car train for a total capacity of 1,634 people, which is the largest capacity in the world for high speed trains. Its maximum speed, by the way, is 240km/hr. Currently, the Max Toki is the only double-decker Shinkansen in Japan.
So what comes next for the Joetsu Shinkansen line? We still have the Series E2 10 car train and the E7 12 car train. The Joetsu line will be receiving an additional brand new E7 series in Max's place.
Reportedly, JR East plans to turn all the Joetsu line Shinkansen to E7's by 2022, and raise the operating speed to 275km/hr. This would reduce the trip from Tokyo to Niigata to 1h 29mins.
Want to memorialize your travels across Japan with the Max Toki Shinkansen? Then JR east has got you covered! They are selling everything from hoodies, to masks, to sake, and special designed wooden rice boxes.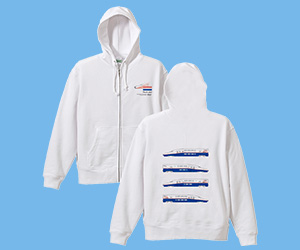 Joetsu station also has double decker eki-bens for sale, while Niigata station is serving up a special Max smoothie with all the colors of the train. 
And the retirement festivities don't end there! Niigata station has added some artwork to the stars, while JR East is running a "Thank you Max" twitter campaign.
Why am I suddenly getting sentimental for a train I've never ridden?
I guess the Tori-tetsus (Train Otakus) were right all along. Trains are cool! 
Here's to all the train adventures past and future!
You can stay on top of the retirement countdown and all the festivities on the "Last Run" webpage.