This year, sakura are expected to bloom around April 1 for a large portion of Niigata prefecture—with northern Niigata and Sado Island following along a few days later around April 6.
There are so many wonderful places to enjoy Japan's quintessential spring flower that it can often be overwhelming for those wondering "where are the best places to see sakura in Niigata?". But don't worry, your Regional Advisors have you covered!
Listed from north to south, here are the best places to see cherry blossoms in Niigata (according to your RAs)!
Shibata Castle
"There are many great places to see sakura in northern Niigata including Kamihayashi Waterside Park, Oike Pond, and the Salmon Park in Murakami. However, one place that I always recommend for people visiting the area is Shibata Castle." – Kim Fitzgerald
Though the original castle is long gone, the stone walls and moat still remain. The moat reflects the blossoms hanging off the castle's walls beautifully. Some of the guard towers and gates have been reconstructed and are considered national important cultural properties.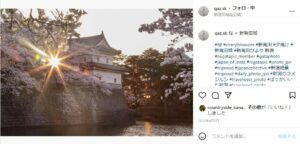 The Spring Festival at Shibata Castle is returning this year. It will run from Friday, April 1 to Sunday, April 10. There will still be strict measures taken to prevent the spread of the coronavirus, however. So, no food or drink will be allowed in the park between the hours of 10 am to 4 pm. Illuminations will take place from 6 pm to 9 pm every evening during the festival. 
For more information about the festival at Shibata Castle, click here.
Muramatsu Park
Stacie, the RA of Aga/Gosen, recommends Muramatsu Park as the best place for hanami in the region.
"It's famous for autumn leaves, but it is also beautiful during sakura season. It has night viewing too!" – Stacie Cuadro
Muramatsu park has over 3000 cherry blossoms including a rare species of cherry blossom known as hozaki higan yaezakura. These flowers, found only in Niigata, bloom twice a year and have two layers of pink petals.
There are many open spaces to lay down a picnic blanket. The Muramatsu Park Sakura Festival will be held this year from Saturday, April 2 to Sunday, April 17. Illuminations will take place from 6 pm to 9:30 pm during the peak bloom period.
Click here for more information.
Shinano River Yasuragi Embankment
The Shinano River Yasuragi Embankment is the best place to enjoy sakura according to Niigata City's RA, Jordan Nowlan. 
The waterfront embankment is a lively place often filled with joggers, pop-up events, and people just outside enjoying the spring air. The location is home to Niigata City's Firework festival every summer. But during the spring, the promenade boasts over 1,000 cherry blossom trees stretched out over 1.5km.
There are also about 32,000 tulips planted along the riverbank by local children. The pairing of the tulips with the sakura will certainly make you feel like spring has officially sprung!
For directions to the Yasuragi Embankment, click here.
Okozu Bunsui
The Okozu Flood Bypass, or Okozu Bunsui, was built 100 years ago to divert water from the Shinano River and prevent flooding of the Echigo Plain. Approximately 2,600 trees were planted along the embankment in honor of this great achievement. And Tsubame-Sanjo's RA, Valerie, recommends it as one of the best places in the area for hanami!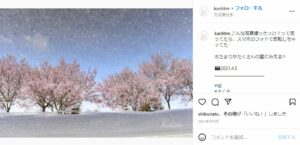 "Okozu Bunsui is a beautiful stretch of cherry blossom trees running along the sparkling water of the diversion channel. There's plenty of space to spread out for hanami, and if you get bored, you can always stop inside the Diversion Channel Museum!" – Valerie Spreeman
The town holds a cherry blossom festival every year on the third Sunday in April.
Click here for more info about Okozu Bunsui.
Mano Park
Mano Park is one of the primer places for hanami on Sado island. And with over 2000 Sakura trees, it's easy to see why. The park has plenty of wide-open spaces perfect for laying down a blanket and having a picnic with friends.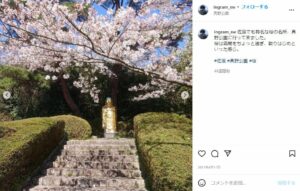 For more info on Mano Park as well as some other places to see sakura on Sado, click here.
Yahiko Shrine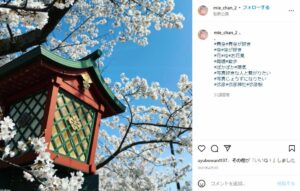 Situated at the foot of Mt. Yahiko, Yahiko Shrine is a "must-see" for anyone in Niigata. The park boasts waterfalls, streams, tunnels, and a vermillion bridge. But it is also home to over 1,000 cherry blossom trees. 
"Yahiko is beautiful any time of the year, but the cherry blossoms around the shrine and park at the base of the mountain are especially charming." – Valerie Spreeman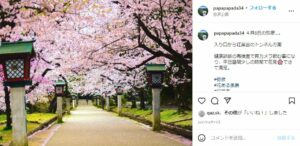 The town of Yahiko has many cute shops and restaurants all within walking distance of the shrine—making it a perfect weekend destination. And with many different varieties of cherry blossoms in the park, you can enjoy sakura from early April 'til May! 
For more information about enjoying hanami at Yahiko Shrine click here.
Yukyuzan Park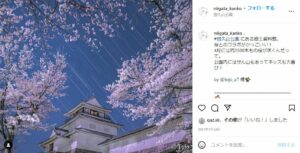 What's better than a castle park with sakura? . . . A castle park with sakura and monkeys!
Yukyuzan Park was once the home of one of the feudal lords of Nagaoka. But today it is home to over 2,500 cherry trees—as well as a Japanese garden, sports park, and a monkey mountain!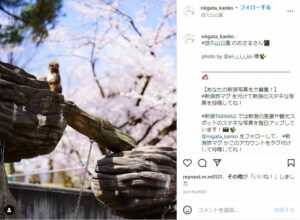 In addition to the monkeys, the small zoo at Yukyzan Park also has several other creatures native to Niigata such as red-crested ibis and swans. Though the festival has been canceled for this year, you can still enter the park and freely enjoy the amenities.
Click here for more information.
Sakadoyama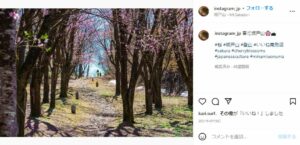 For those looking for a little exercise with their cherry blossoms, look no further than Sakadoyama in Minamiuonuma. This 634-meter mountain is popular with locals and has very well-maintained trails. Round-trip hikes take about two and a half to three hours and will take you past castle ruins as well as plenty of sakura trees. The trailhead is close to Zenibuchi Park, which is renowned as a beautiful spot for hanami and a great place to relax after your hike!
For parking and access to the trailhead, click here. 
Matsugamine
For those looking to practice their photography skills, Coralie Jenny recommends Matsugamine in Myoko. 
"If the water in the pond is still, Mt. Myoko and the trees are perfectly reflected in the water. Since the pond and the trees are located in a golf park, you can't really sit down and walk around. So I recommend visiting nearby Izumijomon Park to sit down and admire the blossoms." – Coralie Jenny
As Coralie stated, this popular location for photographers is essentially just a bridge that crosses over a pond looking into a golf course. While it's an amazingly scenic spot, there aren't really any places to park and take a walk under the blossoms with your friends. 
For directions to Matsugamine, click here.
Takada Park
Takada Castle was built in the Edo period as the residence of Matsudaira Tadateru, the sixth son of Tokugawa Ieyasu. Unfortunately, it burned down in 1870. But the three-story turret has been faithfully restored and is now surrounded by an expansive park including a history museum, a sports park, a promenade, and a moat featuring a vermillion bridge. While the park is beautiful in all seasons, it is a true stand-out during the spring.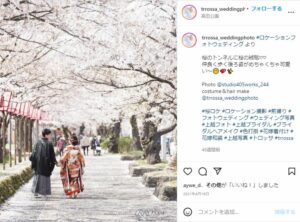 "It goes without saying that Takada Park is the best place to see sakura in Joetsu." – Christine Yen
And as the park is consistently rated as one of the top three places in Japan for viewing cherry blossoms at night, it's hard to disagree. Every year, illuminations are held from sunset until 9 pm (or 10 pm while the blossoms are at their peak). 
This year, the festival at Takada Park will run from Saturday, March 26 to Sunday, April 10.
There is a live camera so that you can check the status of the flowers before you go! If you are participating in hanami at Takada Park, please note that alcoholic beverages are not allowed except in designated tea houses.
To check the sakura live stream, click here.
If you're looking to partake in hanami this spring, AJET is hosting a hanami party at Takada Park on Saturday, April 9 from 10 am 'til sundown. Come soak up the spring sunshine, chat with fellow JETs, and see the splendid sakura! And be sure to check out some of the other awesome spots around the prefecture.